The flourishing Formulators' Blog 7
Ethnic Hair Care
16th December 2020 - In this week's blog we'll be introducing you to a new project we have started working on in the Barentz lab; the ethnic hair care product range. Embracing the natural hair movement amongst all hair types has led to an increased need for products that can support individual natural hair types. As a result, we decided to create an ethnic hair care product range that would consist of formulations that work well for curly/textured hair types. The large variation in thickness, porosity, and curl patterns within ethnic hair types, means that not many companies offer one product range that can be used from start to finish, however, we have created a full hair care routine.
Hair Types & Porosity
Before formulating, we needed to identify exactly which hair types we would be focusing on, so we used a pre-existing system that classifies hair according to one of four curl patterns. Ethnic hair is naturally curly, coily/kinky depending on the individual, and so would be classed as type 3 or type 4.
Over the years the haircare industry has predominantly consisted of haircare products suited to type 1 and 2 hair types. While there are companies like Lush who are now creating and selling products for curly/textured hair, thereis still a need and a gap in the market for this sector.
Type 3 and 4 hair typically can have high porosity so need a routine to reduce this. High porosity hair is hair that has lifted cuticles and gaps often present due to Chemical treatments, loss of protein, rough maintenance, excessive moisture,and genetics. This means moisture readily enters and leaves the hair without being retained for long, and is more prone to hygral fatigue (when excessive amounts of water enter and leave the hair strand; overtime leading to lifted cuticles, dryness, breakageand tangles). As a result higher levels of oils and fats need to be applied to the hair.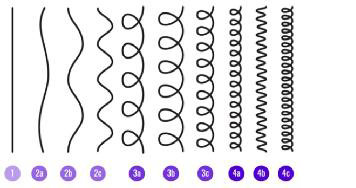 Properties Of Curly/Textured Hair
Dryness - Sebum from the scalp struggles to get down to the tips of the hair due to the curls, resulting in the tips/ bottom half of the hair remaining dry and therefor more prone to breakage.
Brittle - Wherever the hair turns to make a curl is where there is a greater chance of breakage as that's where there's the greatest amount of tension.
Growth - Curly/kinky hair does grow, but the growth may not be visible if the rate at which the hair breaks off at the ends is greater than the hair growth from the roots.
Dry scalp- wearing protective hairstyles like weave wigs and extension are thought to contribute to a dry itchy scalp.
Needs Of Curly/Textured Hair
Conditioning- Regular conditioning of the hair and scalp helps keep the hair and scalp healthy.
Protection- Penetrating oils to prevent hygral fatigue by displacing water in the hair shaft and sealing oils to coat the hair surface, protecting from environmental damage and protein loss.
Caring ingredients- The use of mild surfactants as harsh surfactants strip the hair of its natural oils. Actives that provide conditioning effects, repair, strengthening and protecting claims
Regular care- Washing the hair every 7-10 days with a co-wash and preferably once a month with a shampoo is ideal. Detangling as brushing causes damage.