Plant-based/vegan pet food launches are experiencing huge growth and outpacing traditional products, but what are the drivers?
Following the global COVID-19 pandemic pet ownership has grown dramatically, with the enforced isolation driving many of us to choose pets for company. According to Euromonitor the traditional pet food market has grown by six percent since 2016, but this is nothing when compared to plant-based or vegan pet food that has grown by an astonishing 31 percent in the same period – that is nearly six times faster.
Man (woman and children)'s best friend
Multiple studies have demonstrated the potential link between pet ownership and improved health and wellbeing. The growth in pet ownership for companionship and to combat loneliness during the COVID-19 pandemic, has also seen a continuation of the trend towards humanization of our pets. The pet is seen increasingly as another member of the family and this can be seen in pet names – Max, Bella, Charlie and Lucy have consistently been in the top ten cat and dog names for the last 5 years.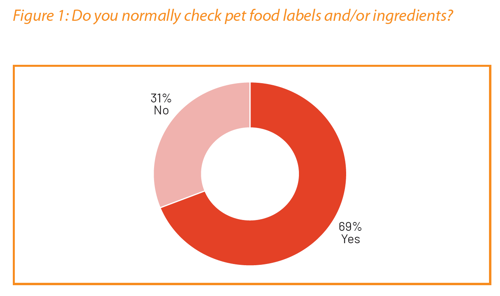 What does this mean for pet food?
During the pandemic people spent more time with their pets – and according to Innova – fifteen percent of pet parents were prepared to spend 'a lot more' on pet food in light of the COVID-19 situation. We want to treat our pets, but we are also keen to ensure that what we feed our pets is good and healthy for them too. Key trends we have seen emerging in human food and drink, such as a desire for health-boosting natural ingredients and concerns for the health of our planet. It is after all, pet parents and their broader concerns that drive the decision-making process when purchasing pet food – not the pet!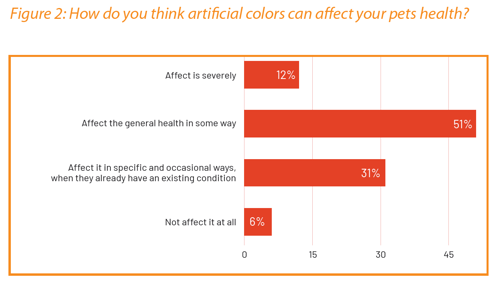 Consumers are making choices
Oterra, the world's largest provider of natural food colors, recently commissioned a consumer insights study in Western Europe to speak to pet parents and find out more about their thoughts on what ingredients are used in pet food.
What we found – not surprisingly, is that these human trends are reflected in consumers habits relating to pet food.
69% of consumers normally check petfood labels and /or
ingredients (figure 1)
63% of consumers think that artificial colors can affect the
health of their pet severely, or in some way (figure 2)
90% of consumers prefer to buy pet food with naturally
sourced coloring ingredients (figure 3)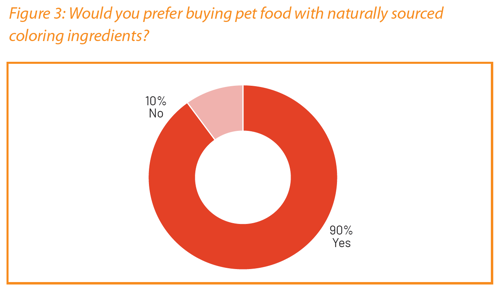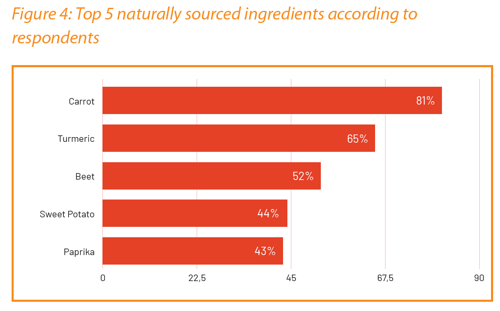 The study also reveals that the ingredients perceived as most natural – according to the consumers /pet parents – are highly associated with the well-known raw materials we find in our own kitchen, such as carrot, turmeric, beet, sweet potato and paprika, see figure 4 and photos. (Photos in original Article below)
46% of consumers in the UK consider the visual appeal important when buying treats for their pets.
Why add colors to pet food?
The consumer study confirms what we already know from human food consumers – with pet food the visual appeal matters. You make your first purchase with your eyes, and pet parents want to give their pets food that looks appetizing and full of flavor.
Plant-based sausage and egg plate for dogs colored with turmeric and caramel – or alternatively caramel can be substituted with blend of black carrot and turmeric
46% of consumers in the UK consider the visual appeal important when buying treats for their pets.
The right natural color can create contrast and brighten products to increase their appeal and apparent nutritional value. Especially in plant-based applications, typically these are created using different types of proteins or other colorless ingredients, the base raw material is often pale or greyish. That's where naturally sourced colors can boost the appearance associated with flavors, such as meat, chicken, or vegetables, while also helping to avoid natural color variations from the raw materials.
Oterra offers a dedicated range of naturally sourced colors for pet food. Their solutions are stable, developed to withstand industrial processing, and have good resistance to light and oxidation, ensuring optimal shelf-life. Among the attractive and appetizing shade palette, are the vegetable and plant-based colors from well-known raw materials, such as orange and black carrot, paprika, turmeric, red beet, and not at least the unique Hansen sweet potato™.
Naturally sourced coloring ingredients can help to subtly differentiate your product. So, what is behind the plant-based pet food boom? Products that mimic human treats are increasingly popular, and as we continue to humanize our pets, we can expect to see the other global megatrends such as naturality, plant-based, and health become ever more front-of-mind with the pet food consumer too.


Read the original article here.