Barentz International, a leading global distributor of life science ingredients, is proud to announce that it has been granted Silver Level recognition from EcoVadis for its Environmental, Social and Governance (ESG) program. This is the second consecutive year in which Barentz has participated in the robust EcoVadis ESG review program.
Highlights
Barentz was rated on 21 CSR indicators within Environment, Labor & Human Rights, Ethics, and Sustainable Procurement categories
With this Silver level recognition Barentz places itself in the top 50th percentile of all globally rated ESG programs
This award reflects Barentz' ambition and commitment towards bettering their ESG performance and working with partners that truly align with these values
Hidde van der Wal, CEO of Barentz, commented: 'At Barentz we're in the business of creating better solutions; solutions that enable sustained success for our customers and communities, our principals, people and ultimately the planet. We intensified and strengthened our efforts over the last year and this silver rating is the result of the support and participation of every single Barentz colleague throughout the world. We are all highly motivated to continue this journey.'
Scott Simmons, Barentz' Global Director of ESG, said: "The EcoVadis review is an important independent third-party assessment of our Environmental, Social and Governance program. We are extremely proud to be recognized by EcoVadis for our efforts and ongoing commitment in these areas. We take our responsibilities to our customers, communities, and employees seriously. We look forward to continuing to grow our ESG programs in 2022 and beyond."
About EcoVadis
EcoVadis' mission is to make sustainability performance measurable, to make transparency a scalable and efficient process for both suppliers and customers, and to facilitate continuous improvement and innovation. The methodology for rating companies is built on the Global Reporting Initiative, the United Nations Global Compact, and the ISO 26000, which covers 198 spend categories and 155 countries.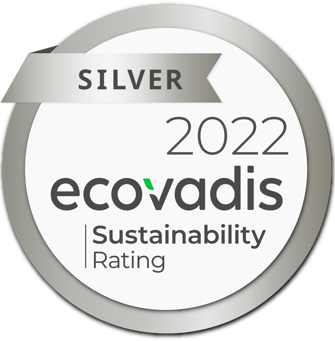 About Barentz
Barentz is a leading global life science ingredients distributor, headquartered in the Netherlands. The company sources branded specialty ingredients from leading manufacturers worldwide and its ingredient experts provide value-added technical support which includes pre-mixing, blending, ingredient formulation and ingredient testing from its state-of-the-art, customized formulation centers and application laboratories in EMEA, Americas and Asia-Pacific.
Established in 1953, Barentz has operations in more than 60 countries with a strong presence in Europe and North America, and a rapidly growing network in South America and Asia-Pacific. With a turnover of €1.85 billion, the company employs around 1,750 people worldwide and serves over 21,000 customers. For more information, visit: www.barentz.com
Media contacts
Marcel Hölscher
Global Head of Marketing & Communication
marcel.holscher@barentz.com
+31 (0)23 567 34 56
Saturnusstraat 15, 2132 HB Hoofddorp, The Netherlands